This Tuesday, October 6th, the 1st European Universities Chess Championship (EUCC) will start..

Their web site is at www.armssf.am - where we, chess community, will have access to results, online games and pgn. I consider of an extreme good taste to have a chess championship committed only to universities. Chess often loses great talent to universities, players that do prefer to dedicate its time to get a degree and to start a career out of chess, which is completely understandable. In order to prevent this problem, such stimuli, as this championship, may be very positive. A few articles ago, the discussion touched the loss of young players due to the "faster times" our society lives in question. The sports/academia balance, as well as the work/life balance, deserves further discussion (topic to future articles) but today the focus will be on a persistent and hot topic in chess: why don't women play chess?
The split
There are 18 male and 11 female teams in this first EUCC. Of these, 3 male and 3 female teams are from Armenia, the host country. Other countries represented are: Poland, Turkey, Slovenia, Russian Federation and Serbia, with teams of both genders; Croatia, France and Portugal present only male teams. Interestingly, women dominates higher education: the percentage of all college degrees (Associate, Bachelor, Master and Doctorate) conferred to women has been higher than those conferred to men since 1981, and the gap shows a tendency to continue growing. However, even when they outnumber men, like in academia, women do not dominate chess. Women are less present in chess both in number and quality; for instance, only 33 female players currently hold the GM title, around 2 % of all chess GMs.
Women chess titles?
What about the WGM (Woman Grandmaster) title? Well, in my opinion, part of the problem arises exactly from the fact there are women titles. Why? There are no men titles, there are chess titles, but there are woman titles - strangely, we are already dooming women as belonging to a lower condition. Isn't chess an intellectual activity? Are women less intellectually capable? If we assume it is reasonable to have women titles, then Nigel Short was right when he polemically proclaimed that "women aren't smart enough to play chess because the game requires logical thinking". Again, if this is true, shouldn't men and women must also have different evaluation schemes to get a university degree, for instance? If physically we are that different to have men and women titles in athletics, for example, how different are male and female brains to receive the same distinction in the intellectual chess game? By the way, women always claim they are brighter than men, and science seems to support this assumption...
There are not many women playing chess, and there are "issues" with the resistant ones. The ECU (European Chess Union) created a dress code for chess tournaments (Europe, 21st century). Why? The General Secretary of the ECU, Sava Stoisavljevic, a woman, stated "We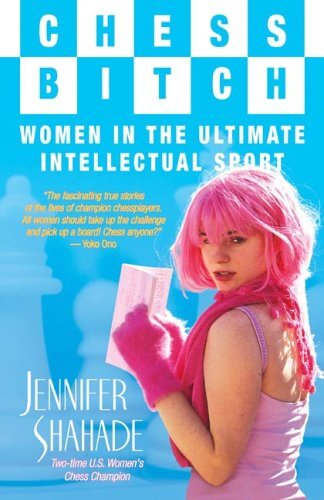 came up with that idea because we noticed that during the games many of the players were not wearing proper clothes.". I would say "proper clothes" is quite arguable and I present the possible unofficial reason: men may be disturbed by women's decolletage. Cleavage. Breasts! What is more ridiculous than having a dress code is that women didn't care their freedom was being taken due to "many comments from spectators, coaches... " heard by Sava Stoisavljevic...
I would expect men, in general, would be interested in having more women playing chess. It would be a proof of chess maturity, as both game, art and social activity. It would be a much healthier environment, if women could dilute the excessive testosterone atmosphere usually found in chess tournaments. However, men don't create the conditions for women to play chess. Sexism is a reality in chess, and Nigel Short's opinion is not the first thing coming to my mind. One can easily find pictures of half-naked women lying between giant chess pieces; I think this is to show how "sexy" chess is... Even when women are depicted above the covered cleavage (of course!), makeup covered faces are often chess fans favorites. Although most chess players might ignore the chess goddess is the Thracian dryad Caïssa, at this same moment they remember a few human chess muses...
Women, however, are not that innocent as well. Their biggest sin: they don't seem to care about these questions. Some of the few women playing chess seem to love the attention they are given, seem comfortable in awarding women titles, often with very little competition... Moreover, there is a book called "Chess Bitch" and, guess what, it was written by 2004 U.S.A. Woman's Chess Champion. And did you see the book cover? It is as cheap as the title... Another interesting book is the 2009 announced and yet to be published Natalia Pogonina's "Chess Kama Sutra"! The author explains "We will be reviewing the most interesting openings and middlegame positions and relating them to positions from Kama Sutra,". Sounds appealing. We are all waiting its publication.
Oedipus Complex
The present article is just the tip of the iceberg of this never-ending discussion. To finish, I will explore a new line: the Oedipus complex. On 18 October 1963, Time photographer Julian Wasser took a photo showing Marcel Duchamp (French naturalized American painter, sculptor, writer and chess player) playing chess with a totally naked young woman, the then 20 years old American novelist Eve Babitz. A few years ago, the famous picture was critically reviewed by Professor Dinis Cayolla Ribeiro, of Fine Arts Faculty, University of Porto (also present in the upcoming EUCC), who concluded that the game, the work of art and the position of the players have connections with the primal scene (the initial witnessing by a child of a sex act) and the Oedipus complex. May the article title question be a Freudian issue? Psychology, art, chess, game, university, education, dress codes...: this is a very complex subject. Nevertheless, I am sure the chess community will greatly benefit if we can find more female names in our chess databases.
Written by Paulo Morais