Many luminaries, world champions, challengers, world-class players, and grandmasters have graced our favorite game of chess. These masters' games enthrall, inspire, and instruct us in the ways of the royal game.
In chess circles, it's usual to talk about the greatest players of all time, but these discussions always lead to the same question: who was the best of all time?
Opening Master prepares a list which we think should be the ranking of all time. By no means you should take it as fact but rather think about why we selected them. Download the most complete collection of these players for free. By Opening Master.
The 10 Best Chess Players Of All Time
10. Mikhail Tal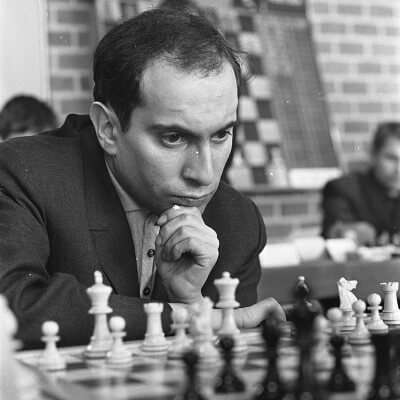 The eighth acknowledged world champion was GM Mikhail Tal, commonly called as the "Magician from Riga." At the age of 23 and a half, he defeated Botvinnik to win the title, becoming him the youngest world champion in history (although this record was broken by both Kasparov and Carlsen).
Tal's attitude to the game has been an inspiration for aggressive players for decades, because to his outstanding and distinctive attacking style. "You must take your opponent into a deep dark forest where 2+2=5, and the trail going out is just wide enough for one," he said in one of his renowned bone-chilling quotations.
The Life and Games of Mikhail Tal is a chess classic and is regarded as one of the best chess books ever written.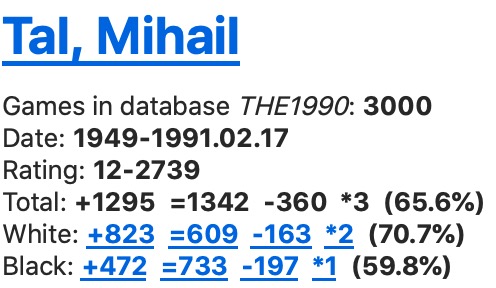 Bio: https://en.wikipedia.org/wiki/Mikhail_Tal

9. Vladimir Kramnik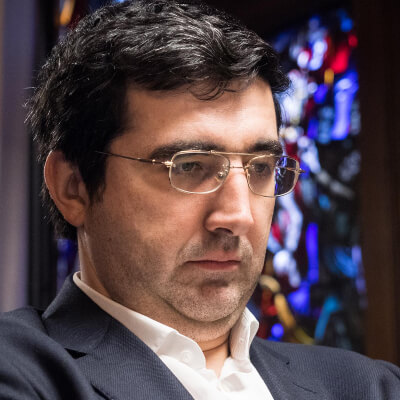 From 2000 to 2007, GM Vladimir Kramnik was the world champion. He dethroned the legendary Kasparov to become the classical world champion in 2000, defended his championship against GM Peter Leko in 2004, and challenged FIDE world champion Topalov in a title unification match in 2006. Since Kasparov in 1993, Kramnik defeated Topalov to become the first uncontested world champion.
Kramnik's game had no weak points when he was at his best—he could do it all. His endgame performance was legendary, as was his clean, tenacious, and positional approach. Kramnik is regarded as one of the most tough players to beat in the game's history.
Before retiring in January 2019, Kramnik had been a top player for almost 25 years.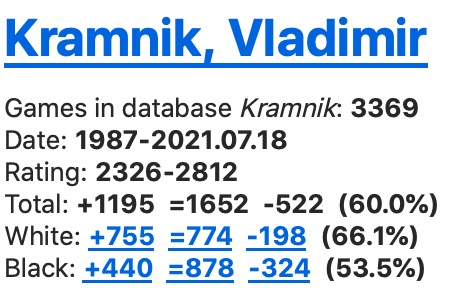 Bio: https://en.wikipedia.org/wiki/Vladimir_Kramnik

8. Mikhail Botvinnik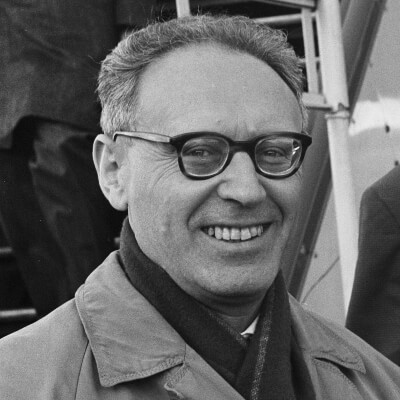 GM Mikhail Botvinnik, is regarded as the "Father of the Soviet Chess School." The sixth world champion was a great player for over 30 years, reigning from 1948 to 1963 (with two brief intermissions). Botvinnik's style was defined by iron logic and adaptability, despite his exceptional ability to plan methodically and strategically. His adaptable ability allowed him to fit in with a wide range of playing styles.
In 1948, he won the world championship, which he successfully defended against GM David Bronstein in 1951 and against GM Vassily Smyslov in 1954. Smyslov defeated Botvinnik in 1957, but Botvinnik won the rematch the following year (at that time the world champion had the right to a rematch if they lost the title). Botvinnik was defeated by Tal in 1960, but history repeated itself in 1961 when Botvinnik won the rematch.
Despite the fact that Petrosian ended Botvinnik's tenure as world champion in 1963, he continued to play at a high level until his retirement in 1970. Botvinnik founded his chess academy in 1963, and three future world champions were his students (Karpov, Kasparov, and Kramnik).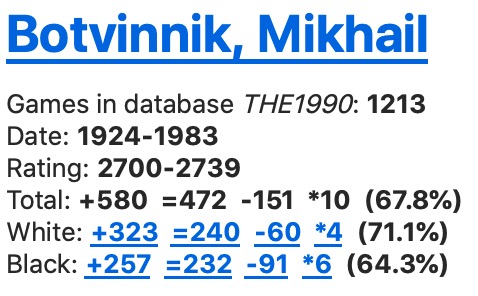 Bio: https://en.wikipedia.org/wiki/Mikhail_Botvinnik

7. Viswanathan Anand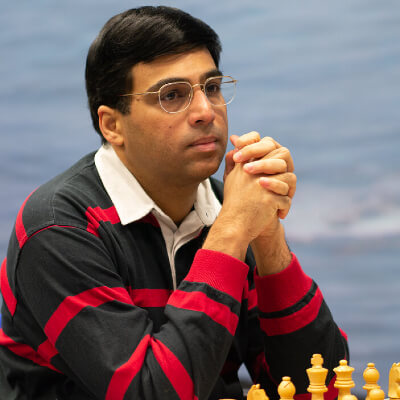 From 2000 to 2002, GM Viswanathan Anand was the FIDE world champion, and from 2007 to 2013, he was the 15th undisputed champion. He lost the PCA world championship match against GM Garry Kasparov in 1995 and the FIDE world championship match against GM Anatoly Karpov in 1998 (on tiebreaks) before capturing the FIDE world championship in 2000.
Anand was proclaimed world champion in 2007 after winning the double round-robin global championship event ahead of GM Vladimir Kramnik and other world-class players. He defeated Kramnik in a match in 2008 to become the world's 15th undisputed champion. He successfully defended his title by defeating GM Veselin Topalov in 2010 and GM Boris Gelfand in 2012. Magnus Carlsen, the reigning World Champion, defeated Anand in 2013.
Anand is the all-time strongest Indian grandmaster and has influenced generations of chess players in India and around the world. He is teaching many young Indian prodigies such as 5th youngest Grand Master Praggu (Rameshbabu Praggnanandhaa became GM when he was 13)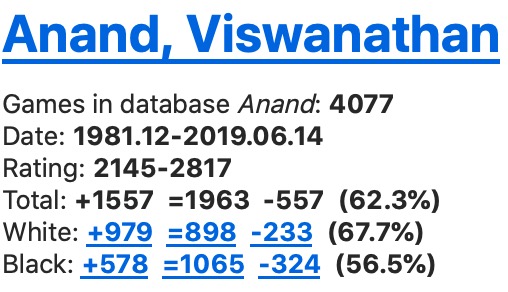 Bio: https://en.wikipedia.org/wiki/Viswanathan_Anand

6. Anatoly Karpov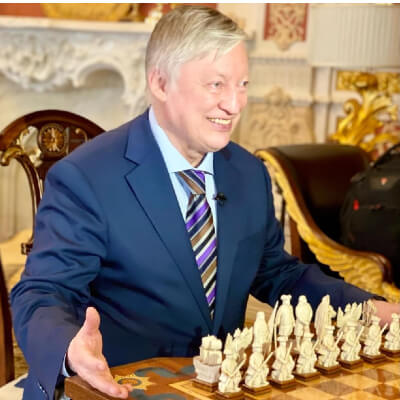 GM Anatoly Karpov was the 12th world champion, reigning from 1975 to 1985 and from 1993 to 1999 as FIDE world champion. Karpov was a versatile player who excelled in positional binds, prophylactic play, and endgame tactics.
When Fischer pulled out of their 1975 match because his demands were not granted, Karpov became world champion by default. In 1978 and 1981, Karpov successfully defended his title against GM Viktor Korchnoi. Karpov's first encounter with Kasparov occurred in 1984, and the world of chess was forever changed.
The match was called early in the first of five meetings between the two famous titans, with Karpov leading with five victories, three losses, and 40 draws. In 1985, Kasparov defeated Karpov to win the chess championship. They played again in 1986, 1987, and 1990, and when their matches were over, Karpov had 19 victories, 21 victories, and 104 draws in world championship matches!
Karpov became the FIDE world champion when Kasparov broke away from FIDE in 1993 (forming the PCA). Karpov successfully defended his FIDE world champion title in 1993, 1996, and 1998, against GM Jan Timman, GM Gata Kamsky, and GM Viswanathan Anand (on tiebreaks). After FIDE altered, Karpov refused to play in the 1999 FIDE world championship competition.
Karpov's great games are still a source of inspiration for today's positional and endgame players. Karpov's Strategic Wins, a two-volume masterpiece by Tibor Karolyi, is widely regarded as one of the best chess books ever written.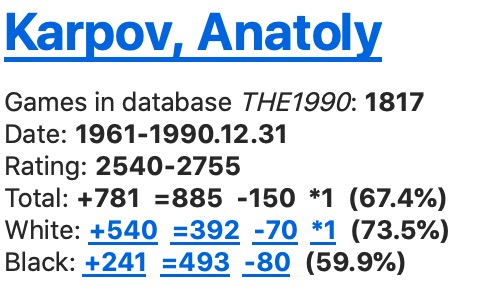 Bio: https://en.wikipedia.org/wiki/Anatoly_Karpov

5. Jose Raul Capablanca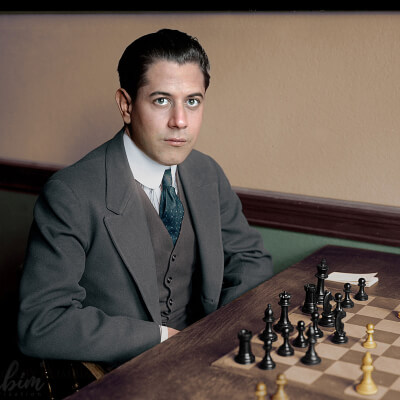 Jose Raul Capablanca was the world's third official champion and arguably the greatest chess player of all time. He had a tournament record of 40 wins and 23 draws from 1916 to 1924, which was an extraordinary feat at the time and remains historically notable. During his eight-year career, Capablanca's talent and skill were unrivaled.
In 1921, Capablanca defeated the famous Lasker to become world champion. Many feel that if Capablanca had been given the chance before 1921, he would have overcome Lasker, and that if he had been allowed a rematch with Alekhine, he would have reclaimed the title. Capablanca's prime playing time were during and between World Wars I and II, which was unfortunate for him.
Every world champion and challenger is well-rounded, but Capablanca has a unique ability in the endgame. It's tough to find flaws in his endgame performance even now (in the engine era of chess). Capablanca's Best Chess Endings by Irving Chernev is a classic book and we highly recommend it.
Only Capablanca achieved the distinction of going eight years without losing a game and winning the world championship.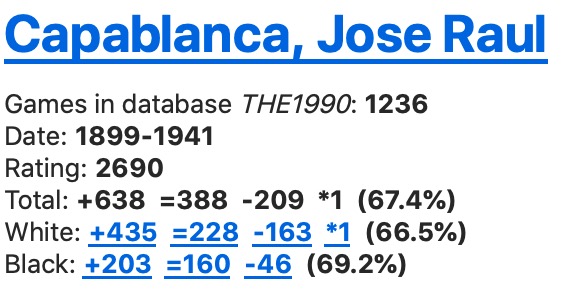 Bio: https://en.wikipedia.org/wiki/Jos%C3%A9_Ra%C3%BAl_Capablanca

4. Alexander Alekhine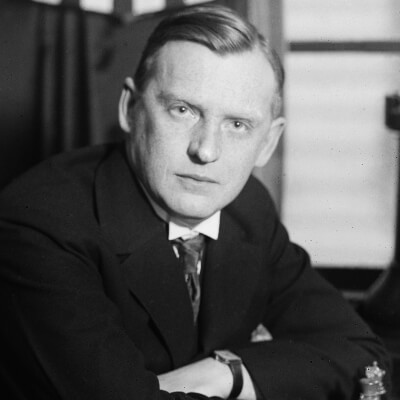 From 1927 to 1946, Alexander Alekhine was the fourth and final recognized world champion (with an exception during 1935-1937). He was a bright and well-rounded player with a knack for combining moves in difficult situations. He also showed the chess world that rules and principles can be broken by analyzing the specific and unique position in detail.
Despite being a significant underdog, Alekhine defeated Jose Raul Capablanca in 1927 to become world champion (he had never won a single game against Capablanca before the match).
Alekhine had a long term as world champion, although he only successfully defended his title twice (both times against GM Efim Bogoljubow in 1929 and 1934). Due to a variety of factors, Capablanca and Alekhine never fought again for the world title. In 1935, Alekhine competed for the world title against GM Max Euwe and lost.
Alekhine won the rematch against Euwe two years later to reclaim the title, but he would never defend it again. He died as the world champion in 1946, the only champion ever to do so (although he was finalizing the details to play a match with Botvinnik).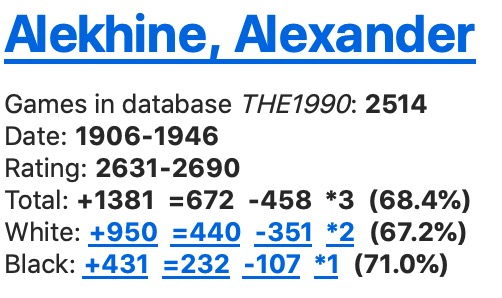 Bio: https://en.wikipedia.org/wiki/Alexander_Alekhine

3. Bobby Fischer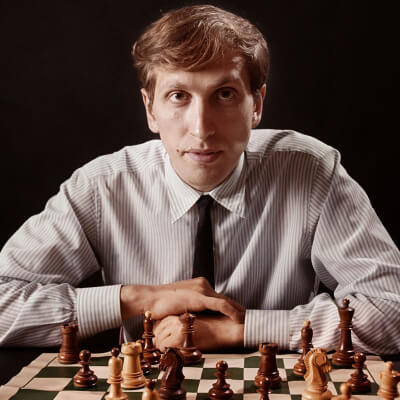 GM Bobby Fischer was the first and only American world champion, as well as the 11th official world champion. Many consider him to be the greatest chess player of all time. Fischer won 20 games in a row against world-class opponents from 1970 to 1971, an extraordinary and mind-boggling feat that will almost certainly never be matched. This achievement is one of the seven most incredible chess achievements ever.
Despite starting the match with a 0-2 score after throwing away game one in a completely equal endgame and not even showing up for game two, Fischer defeated Spassky in the "Match of the Century" and was named world champion in 1972. During the Cold War, Fischer's destruction of the Soviet chess empire from 1970 to 1972 is regarded as one of the greatest individual performances of all time.
His style was unique, original, and innovative. He could attack and defend with the best of them, but his command of positional play was deep and almost frightening. In the United States and around the world, Fischer influenced numerous generations of chess players.
Fischer's "Game of the Century" is one of the most well-known chess games of all time, and his book My 60 Memorable Games is widely regarded as one of the best chess books ever written.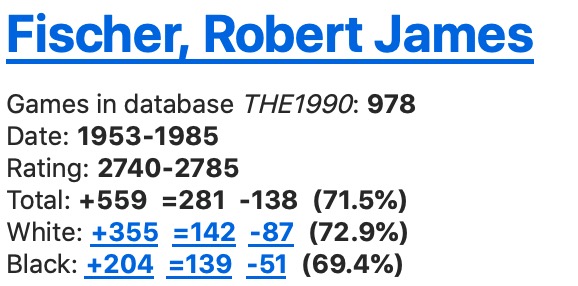 Bio: https://en.wikipedia.org/wiki/Bobby_Fischer

2. Garry Kasparov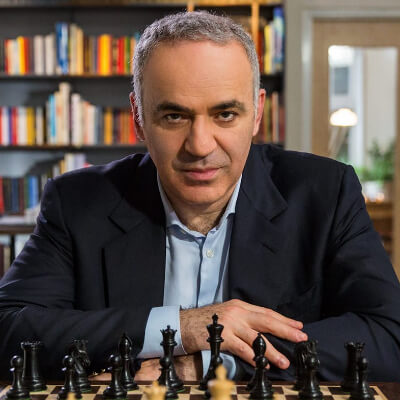 GM Garry Kasparov was the world champion for the 13th time, reigning from 1985 to 2000. He originally rose to the top of the world rankings in 1984, and he remained there until 2006, with a few minor interruptions. For more than two decades, Kasparov ruled the chess world.
On March 3, 2000, Kasparov earned his top rating of 2856, which was unparalleled at the time and remained unbroken until Carlsen surpassed it.
At the age of 22 and a half, Kasparov defeated Karpov to become the youngest world champion ever. In 1986, 1987, and 1990, he successfully defended his world championship title against Karpov three times in a row. In 1993, he broke away from FIDE and founded the PCA; this split would result in two separate world championships until Kramnik and Topalov reunified in 2006.
In 1993, Kasparov successfully defended his title by defeating GM Nigel Short, and he successfully defended his title again in 1995 by defeating Anand. Kasparov and Lasker are the only two world champions who have successfully defended their crowns five times.
In the year 2000, Kramnik defeated Kasparov, ending Kasparov's reign as world champion. Kasparov, on the other hand, continued to compete in (and win) tournaments until 2005, when he retired as the world's number one player.
After his formal retirement, Kasparov has stayed engaged in the chess world. He's played exhibition matches and even trained GM Hikaru Nakamura and Carlsen. His five-volume My Great Predecessors series is widely regarded as one of the best chess books ever written.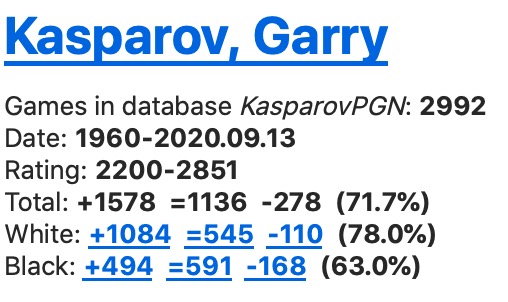 Bio: https://en.wikipedia.org/wiki/Garry_Kasparov

1. Magnus Carlsen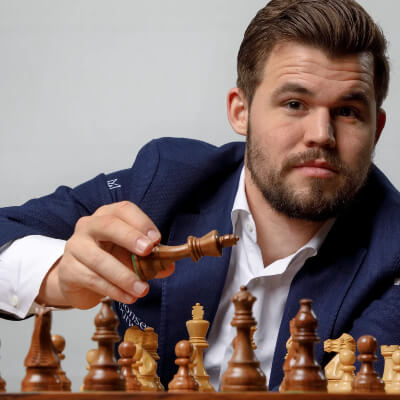 For all three time controls, GM Magnus Carlsen is the current world champion (standard, rapid and blitz). He became the youngest player in history to break the 2800-rating threshold in 2009, and on April 21, 2014, he hit his pinnacle and highest rating ever, with a rating of 2889. Can he break 3000 as the first man ever? We believe he can.
Carlsen has been the top-ranked player in the world since 2011 and has dominated the game ever since. Carlsen has a 120-game undefeated streak in conventional time controls as of February 2020, which is another world record for the world champion.
Carlsen's resume is already impressive enough to the greatest players of all time, but he is only 29 years old and may not yet have hit his peak playing abilities! If we compare his career with Kasparov, his current condition future outlooks we are awarding him number 1. Of course many will disagree and place Kasparov to number 1 but as we said previously this is our own list. If you disagree comment below or share on social media.
Carlsen won the world championship after defeating Anand in 2013, just before his 23rd birthday (the second-youngest world champion ever, behind only Kasparov). Carlsen has successfully defended his title three times: he defeated GM Sergey Karjakin in a rematch in 2014, GM Fabiano Caruana in a rematch in 2016, and GM Sergey Karjakin in a rematch in 2018. Will he defend his title in 2023 we will see the Candidates list.
Carlsen does not believe he deserves to be at the top of this list. Carlsen stated in an interview in January 2020 that: "Kasparov was the world's number one for 20 years in a row... He has to be regarded as the greatest in history. But I have the impression that time is on my side... I haven't reached the age of thirty yet. If I wanted to be considered the greatest in history at 30, I had to start dominating at the age of ten."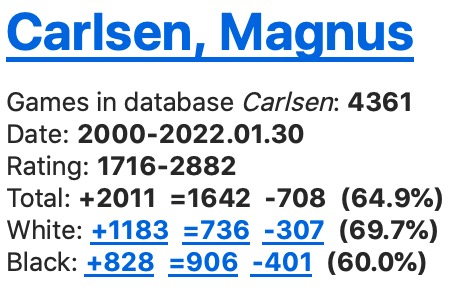 Bio: https://en.wikipedia.org/wiki/Magnus_Carlsen

Prapared by Opening Master team