This was a match! Bravo Magnus. The year 2022 could not have started better for the World Champion Magnus Carlsen. Take a look at the highlights and download a free chess database.
The players played against each other in 13 rounds in a round-robin tournament in De Moriaan in Wijk aan Zee in Netherlands between January 13 - January 29.
Rate of play Grandmasters
100 Minutes for 40 moves, followed by 50 minutes for 20 moves, then 15 minutes for the remaining moves with 30 seconds cumulative increment for each move starting from the first move.
The Tata Steel Chess Tournament is one of the most prestigious events in the international chess calendar. The "Wimbledon of Chess" attracts the very best chess grandmasters in the world, along with thousands of amateur players, live event visitors and online visitors from around the world. During its 85 years of history, the Tata Steel Chess Tournament has attracted some of the biggest names in chess history.
Visitors to the tournament have witnessed the rise and domination of players like Norway's Magnus Carlsen, India's Viswanathan Anand, and Russia's Gary Kasparov.
The Masters group pits fourteen of the world's best against each other in a round-robin tournament. Since 1938, there has been a long list of famous winners, including Max Euwe, Tigran Petrosian, Jan Timman, Anatoly Karpov, Vladimir Kramnik, Garry Kasparov, Viswanathan Anand and Magnus Carlsen.
Table
Take a look at the final table from the Opening Master Chess Database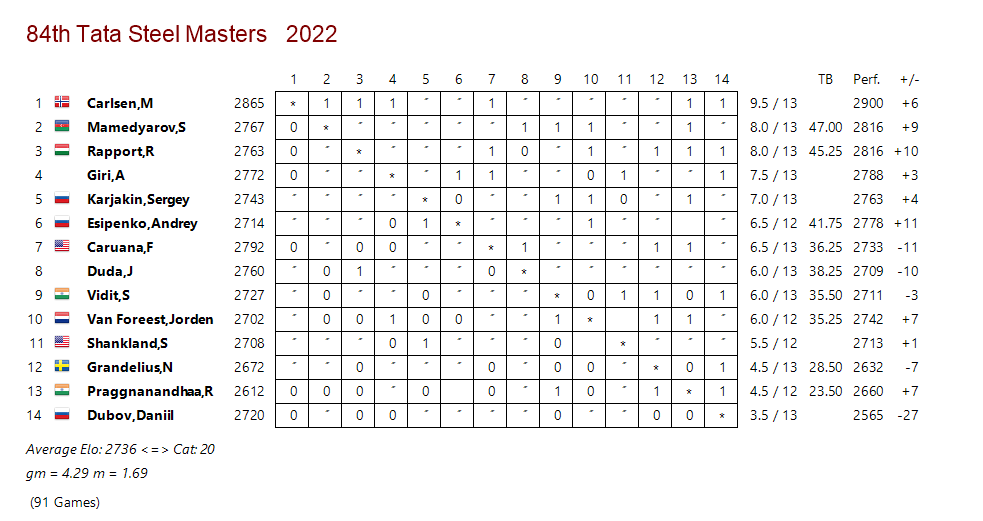 Carlsen first played at the tournament in 2004, the same year as he became a chess grandmaster. Carlsen holds the record for most wins at the tournament, with seven titles to his name.
Download the 91 games from the Tata Steel Tournament 2022 in PGN an Chessbase format.