Isn't this excited? The longest stalemate for period of more than 20 years. Sergey Karjakin (RUS) plays against Magnus Carlsen (NOR) and it is never ending story. The first 7 matches out of 12 ended in 7 consecutive draws. After 12 matches, the score was 6:6 and both players went to Rapid games. Forget about football, cricket or ice hockey, the whole world is now watching chess. It is east battling the west again like it was during the Cold war in Reykjavik, Iceland. The defending champion since 2013, Magnus Carlsen however doesn't have it easy.
Whenever you tune in the radio now, or web you will indeed hear the greatest match of the year between the two top FIDE players. Although one may disagree that Sergey is the best opponent to Magnus, there are perhaps better matches like Fabio Caruana but he Sergey did win the Candidates (and won also the World Cup to qualify to the candidates). So let's agree to watch carefully how this all ends. The match, which is being held at the South Street Seaport in New York City, has a prize fund of about $1.1 million.
Battle about World Champion and $1.1 million
Speaking of Fabio Caruana, during peak form, he gives the same feeling of invincibility that Carlsen emanates most of the time (Take his 7/7 record in Sinquefield Cup against some of the strongest players of the world!) Note that he's the only player to have given Carlsen a run for his money in FIDE Elo ratings in recent years. While Carlsen has a +3 score against Caruana (+8−5=10), it has been shown that if put under early pressure, (or if he's not gaining gradual incremental advantage during a game), he tends to push hard and make mistakes, a trait that has cost him games before. If faced with a creative opponent like Caruana who has a universal playing style combining strong preparation with calculation - and the right amount of tactics and strategy - Carlsen might be prone to commit mistakes.
However we have Sergey Karjakin winning the ticket and now he is showing he deserves the full seat. Take a short look at Sergey's chess career:
He learned to play chess when he was five years old and became an IM at age 11 years and 11 months. In 2001, he won the World Chess U12.
He earned his GM norm at the age of 12 years and 7 months - youngest GM ever - a record still stands!
At 14 he defeated the reigning world champion, Vladimir Kramnik, during the 2004 Dortmund Sparkassen Chess Meeting, in a blitz game.
Karjakin shared first place (second on tiebreak) with Magnus Carlsen at the Bazna Kings Tournament and third place with Vassily Ivanchuk and Ian Nepomniachtchi in the category 22 Tal Memorial in Moscow Karjakin's record against Carlsen, in classical games, is close: 1 win, 3 losses, and 15 draws.

Not to mention - he also won candidates 2016 quite convincingly - The final game, a Rauzer Sicilian in which Karjakin sacrificed a rook to create a mating attack, was a tense and exciting struggle where Caruana was forced to play for a win as Black due to a worse tie break. What a fantastic game it was ! Take a bow Sergej!
How does it end?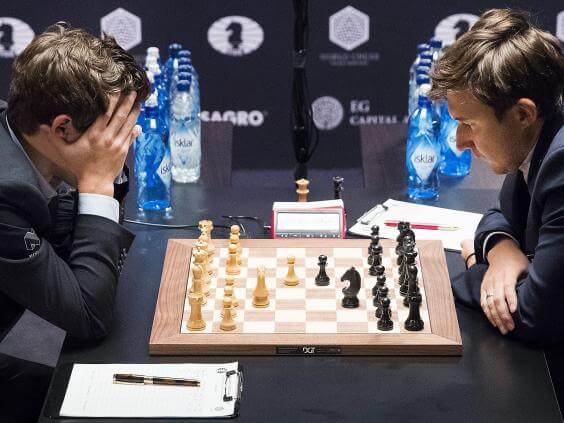 Chess players Magnus Carlsen of Norway, the reigning world chess champion, and Sergey Karjakin, of Russia, contemplate their moves during round 8 of the World Chess Championship in New York (EPA) (Getty)
Under the rules set by FIDE, the world chess federation, players are placed under strict time constraints which become more intense as the game wears on. They are required to complete their first 40 moves in a total of no more than 100 minutes, for example, or suffer an instant loss.
And it is one of the most unusual features of the Championship that immediately after the game, both players are required to give short interviews and then a full joint press conference in which they pick apart how it was won, lost or drawn.
It appears that process was one which Carlsen couldn't bear to face. He refused to speak to a reporter waiting in the wings at the venue, barging straight past to the conference table.
Though Magnus Carlsen is Norwegian, he celebrated the American holiday of Thanksgiving on Thursday by winning Game 10 of his World Championship match against Sergey Karjakin, the Russian challenger.

Final score 7:9 (classical games draw 6:6)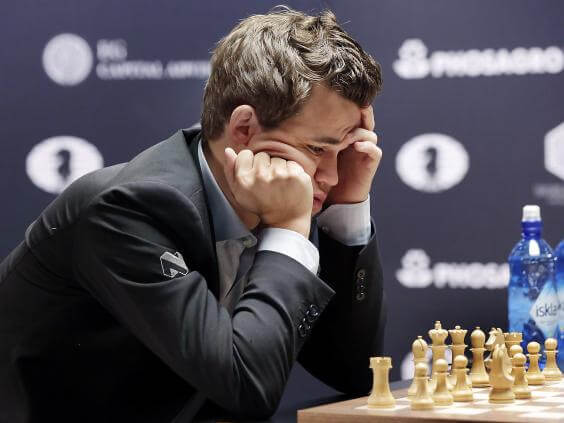 Cheers from Opening Master team.