In the early 20th century all chess sets sold in the United States were manufactured in Europe. With the outbreak of World War I in 1914, the supply of chess sets to the U.S. ceased. William F. Drueke was now known as the quality game manufacturer in the United States using nothing but the finest walnut, maple and aspen for its products.
Established in 1914 by William Drueke, the Michigan based company thrived for decades until 2010 when the last remaining production wooden chessboards were sold. Pronounced (droo-key), Drueke's wooden chess boards were the mainstay of the product line ranging in sizes from 15″ to 26″. The walnut and maple hardwood furniture perfect finish and precision manufacturing were loved by chess players through the country and the world.
The Carrom Company today owns the Drueke chess line which has been reduced to a mere two products from the scores of products originally. Currently line also includes action games, backgammon, dominos, checkers, game boxes, chess tables and wooden accessories.
Brief history of Drueke Company
Fast forward from World War I and turbulent Great Depression, in 1932, William F. Drueke reestablished the Drueke game business in the Drueke home and resumed making cribbage boards and chess sets. For the cribbage boards, Drueke had The Grand Rapids Chair Company cut, shape and sand the cribbage boards. The Sterling Brush Company drilled the peg holes, put a peg pocket in the bottom of the board and buffed on a wax finish. The John Stevens Company supplied the shellac, Imperial Metals made the pegs and The Grand Rapids Box Company made the boxes.
Between 1941 and 1946, Will and his sons Joe and Bill, applied for and received patents on the design of eight games.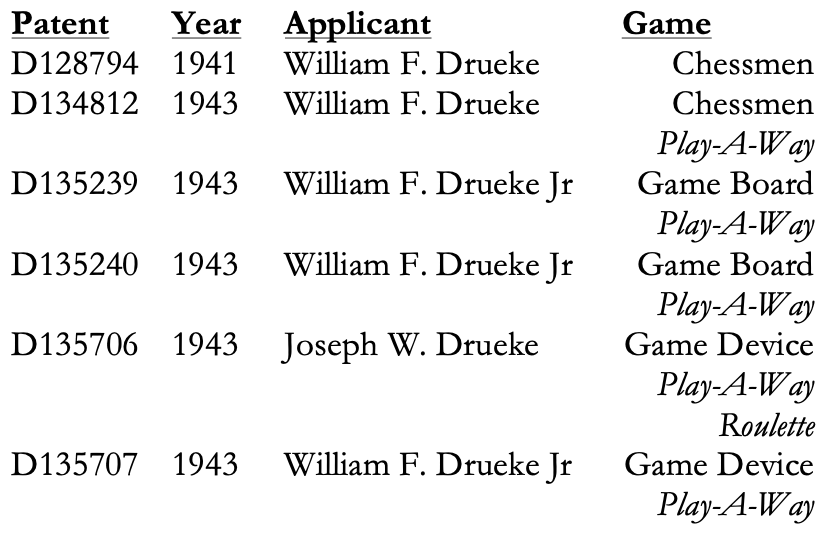 During WWll, Drueke, like other game makers, put much of their production effort into supporting the war – producing multitudes of small, very portable 'pocket' games to be sent to the soldiers fighting overseas. At one point, Drueke shipped out a railroad car that was full of nothing but pocket games – including chess, backgammon, cribbage boards, and other games in their product line.
When William F. Drueke died in 1956 at age 72, his sons Bill (William F. Drueke Jr) and Joe (Joseph Drueke) continued to run the business. Bill did the manufacturing and Joe handled sales. They each equally owned a little over a third of the stock in the company with Rose, William F Drueke Sr's widow, and Marion, his daughter, owning the rest. However, in 1971, there was difference of opinion between Joe and Bill and Joe started another company, known as Drueke Blue Chip Game Company, even while he still owned his share of the original Drueke Company. The Drueke Blue Chip Company made pretty much the same games, but imported chess games rather than manufacturing them. Thus, between 1971 and 1987, there were two Drueke game companies. [Source: THE DRUEKE COMPANY – CHESS DESIGNED IN AMERICA by Duncan Pohl]
In 1987, when Bill was age 75, the Drueke Company was sold to the Low Tech Company. In 1990, the Low Tech Company sold Drueke to the Carrom Company, which moved manufacturing operations to its home in Ludington, Michigan. Joe Jr. continued to work for the Carrom Company as a manufacturer's rep until 1994. The Carrom Company continues to produce games under the Drueke name to this day.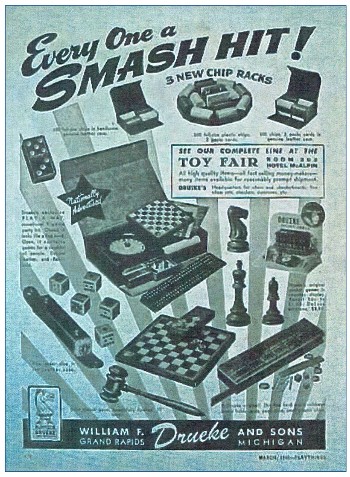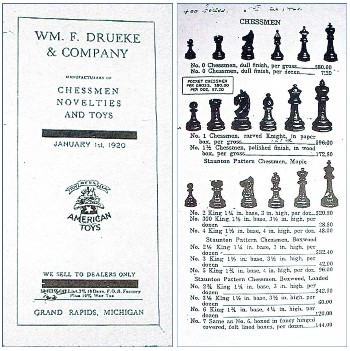 The Birth of Wooden Chessboard Manufacturing
Throughout the ages, wooden chessboards have been the hallmark of quality and craftsmanship. The origins of wooden chessboard production can be traced back to ancient times. The earliest chessboards were made from a variety of materials, including stone, clay, and even simple cloth. However, as the game evolved and gained popularity, wood emerged as the preferred choice for chessboard construction due to its durability and aesthetic appeal.
Pioneers in Wooden Chessboard Manufacturing
Jaques of London
A name synonymous with quality and prestige in the chessboard manufacturing industry, Jaques of London has been crafting exquisite wooden chessboards since the early 19th century. The company gained prominence when it became the official supplier of chessboards to the British Chess Federation in 1849. Jaques' chessboards are crafted using fine hardwoods and are known for their precision, durability, and elegant design.
Drueke from Michigan, USA
Founded in 1914 by William F. Drueke, Drueke quickly rose to prominence as a leading chessboard manufacturer in the United States. Known for their attention to detail and exceptional craftsmanship, Drueke chessboards became a favorite among chess enthusiasts worldwide. The company primarily utilized hardwoods such as maple, walnut, and mahogany to create their renowned chessboards.
House of Staunton
Established in 1993, the House of Staunton has become an iconic name in the world of chessboard manufacturing. Combining traditional techniques with modern technology, the House of Staunton produces chessboards of unparalleled quality. Their range includes chessboards made from various woods, including African Padauk, Indian Rosewood, and Macassar Ebony, each offering unique aesthetics and grain patterns.
Colorado Woodworker
Established in 2013, we can consider Brad Borkowski still a newcomer to the big names. However with his unique craftsmanship, precise work and new signature series a.k.a Chaos Chessboard we will see a big rise of Borkowski name. With recent video endorsement by chess.com the Colorado Woodworker will quickly catch up and match up the big ones. While still making the chessboards custom personally overlooking each production the numbers as still small compared to big houses however sometimes exceptional quality does not need to be produced in masses.
Exquisite Woods Used in Chessboard Production
Rosewood
Known for its deep, rich tones and intricate grain patterns, rosewood is a highly sought-after wood for chessboard construction. Indian Rosewood (Dalbergia latifolia) and Brazilian Rosewood (Dalbergia nigra) are particularly esteemed for their elegance and durability.
Ebony
Revered for its striking black color and lustrous finish, ebony is a classic choice for high-end chessboards. African Ebony (Diospyros crassiflora) and Macassar Ebony (Diospyros celebica) are frequently employed in the creation of chessboards due to their strength and natural beauty.
Maple
Recognized for its light hue and smooth texture, maple is a popular wood choice for chessboards. The wood's clean, uniform appearance lends itself well to intricate inlays and contrasting designs.
Walnut
Prized for its warm, earthy tones, walnut provides a distinct aesthetic to chessboards. This wood variety is known for its strength, stability, and ability to age gracefully, making it a favored choice for both traditional and contemporary designs.
We are inviting all chess players to use the special coupon code during Opening Master purchase checkout

"giftofchess"

to be eligible for immediate discount of 20%. Opening Master will add 30% from each sale and make monthly donations to GOC to support their projects in globally.
Download biggest chess database OM OTB with 9.6 million official human chess games. We offer great summer sales of 50% from OM GOLEM. Use a special coupon code "
OM50SUMMER

"

Opening Master Luxury Chess Boards
As chess continues to grasp minds and hearts, the tradition of wooden chessboard manufacturing will undoubtedly flourish, leaving an enduring mark on the history of the game. The legacy of wooden chessboard manufacturers is a testament to the artistry and craftsmanship associated with the game of chess.
Opening Master Chess Database Company Ventures into Luxury Chessboards with the Debut of "Opening Master" Collection
Opening Master Chess Database Company, a pioneering name in digital chess resources since 2004, is proud to announce its foray into the world of physical chessboards with the introduction of the luxurious "Opening Master" collection. This extraordinary line of chessboards represents a departure from the company's digital domain, showcasing their commitment to catering to true chess enthusiasts and exceptional craftsmanship.
Combining the best of traditional artistry and contemporary design, the Opening Master chessboards exemplify elegance, precision, and timeless beauty. Crafted with meticulous attention to detail and using only the finest materials, these chessboards will redefine the way enthusiasts and collectors experience the game.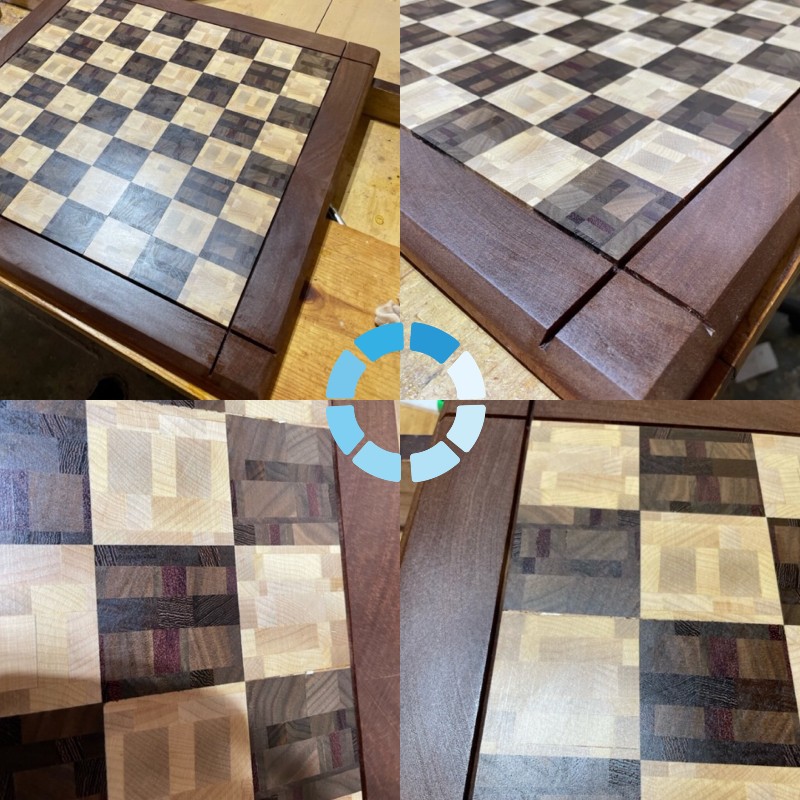 The Opening Master collection is beautifully handcrafted by a master himself (name will revealed soon), using the finest woods and employing traditional woodworking techniques. Each chessboard is a work of art, carefully designed to enhance the chess playing experience and serve as an exquisite centerpiece in any setting. The collection will feature a range of sizes and wood options, including rosewood, ebony, maple, and walnut, among others, providing enthusiasts with a selection to suit their personal preferences.
Further details regarding the Opening Master chessboards, including pricing, availability, and the official launch date, will be unveiled soon. Chess geeks and collectors alike can look forward to a truly luxurious chess experience with the Opening Master collection.