Belgrade, Serbia / Bratislava, Slovakia - July 12th, 2023 - Today, we are happy to announce a long awaited partnership between Outpost Chess and Opening Master, aimed at revolutionizing the chess community and addressing the long-standing issue of disconnection within the chess world.
The chess community has long struggled with fragmented communication and a lack of cohesive platforms for players, coaches, arbiters, organizers, and chess clubs to connect. This partnership between Outpost Chess and Opening Master seeks to challenge this status quo and establish a global chess community that embraces seamless interaction and enhanced collaboration.
Traditional channels failed. Outpost Chess brings new wave
While the chess community benefits greatly from its widespread awareness and competency, outdated organizational habits and communication methods have hindered progress. Traditional channels such as paper correspondence, clunky forums, and disparate social media platforms no longer meet the needs of modern chess enthusiasts. It is time for a shift, and Outpost Chess is prepared to lead the way.
Outpost Chess offers a comprehensive, all-in-one platform designed specifically for players, coaches, chess clubs and organizers. The platform enables users to create custom profiles, connect with peers, engage in in-app messaging, and leverage an intelligent search feature to find suitable clubs, tournaments, and opportunities, regardless of their background.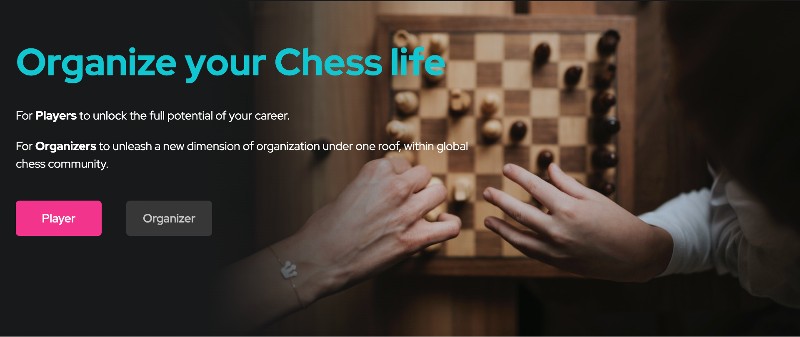 The partnership between Outpost Chess and Opening Master presents numerous benefits for the chess community:
For Players:
• Organize your chess life and unlock the full potential of your career.
• Easily find and participate in tournaments, whether for small or significant rewards.
• Explore an extensive tournament base, register, and conveniently pay participation fees.
• Win tournaments and receive prize money directly in your Outpost Chess wallet.
For Organizers:
• Experience a new dimension of organization within a unified global chess community.
• Discover over 1000 tournaments and introduce your own events or competitions.
• Engage with titled players and invite them to your chess club.
• Chat with grandmasters worldwide, establish connections, and challenge them to matches.
• Represent multiple chess clubs and expand your visibility within the community
• Outpost Chess was born to make a hub for easy and smooth organizing process
For Arbiters:
• Showcase your expertise and official FIDE arbiters license to attract tournament organizers.
• Stay visible and receive notifications about available opportunities.
• Earn income while contributing to the growth and success of chess events.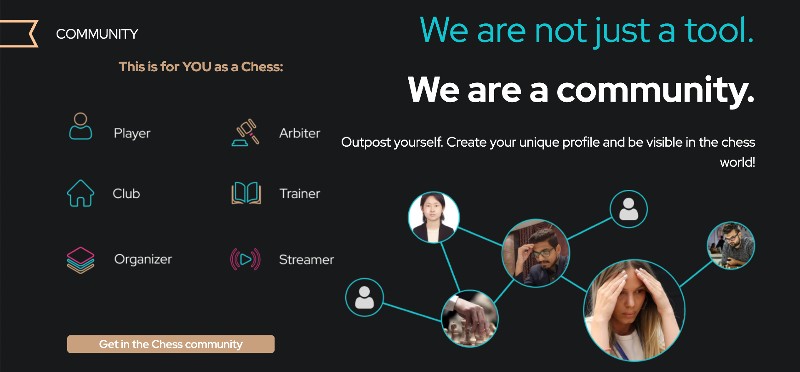 Furthermore, this partnership grants Outpost Chess users access to Opening Master Chess's extensive database, featuring a biggest global collection of 9.6 million over the board human games. With exclusive discounts, chess enthusiasts can now join Outpost and enjoy the benefits offered by both partners.
Few words about Opening Master
Opening Master Chess Database, has collection of over 30 million top human chess games called OM GOLEM, but the main flagship is powerful OM OTB chess database with 9,6 million chess games. It stands as a testament to 18 years of research and development chess data analysts, GMs and IMs. Recognized as the official database partner of the International Chess Federation Education Commission (FIDE EDU), Opening Master Chess has also sponsored ICCF global tournaments and established itself as a trusted chess database partner of the global chess education platform GCHESS. Additionally, Opening Master Chess proudly partners with ChessKid.com, the safest online chess platform for children, and supports underprivileged communities in Africa through a collaboration with Gift of Chess, a humanitarian charitable organization based in New York, USA.

For tournament organizers, arbiters, club trainers, streamers, and players alike, this partnership between Outpost Chess and Opening Master offers numerous benefits and opportunities for growth. Opening Master provides the most reliable and comprehensive chess databases, starting as low as 39 EUR, enabling users to elevate their game to the next level.
Immediate discount 20% for all Outpost chess users
All you need to is to insert a special checkout code: OMOUTPOSTCHESS
Don't miss out on this incredible opportunity to enhance your chess journey. Join Outpost Chess and Opening Master today, and unlock a chess world of possibilities!
For media inquiries, please contact:
Alexander Horvath
This email address is being protected from spambots. You need JavaScript enabled to view it.
Lena Miladinovic
This email address is being protected from spambots. You need JavaScript enabled to view it.
About Outpost Chess:
Outpost Chess is a leading chess media platform dedicated to the global chess community, connecting players, coaches, arbiters, and organizations. Through its innovative features and user-friendly interface, Outpost Chess aims to revolutionize the way chess enthusiasts interact and collaborate. Outpost Chess connects community, organizational hub and tools, and payment facilitator, all under one roof.
About Opening Master:
Opening Master Chess offers the most extensive human chess database available, featuring over 30 million top human chess games. As a trusted partner of FIDE, GCHESS, ChessKid.com, and Gift of Chess, Opening Master Chess is committed to supporting the chess community and enabling players to achieve their full potential.