We are thrilled to announce the highly anticipated June 2023 update of Opening Master Chess Database. With this release, we are adding over 50,000 new games to our already extensive collection, providing chess players with a wealth of knowledge and resources to enhance their gameplay.
The June 2023 update brings a significant number of games across various categories, allowing players to explore different strategies and openings for both over-the-board (OTB) and correspondence (CORR) games. Here's a breakdown of the new games included in this release:
Opening Master at glance:
OM OTB 2023 06 update: 38,183 human games played over the board since April
OM OTB 2023 06: 9,678,685 total human chess games played over the board
OM CORR 2023 06 update: 14,955 correspondence chess games
OM CORR 2023 06: 2,188,005 total games
Total additional games in June 2023 release: 53,138
With this substantial addition, Opening Master Chess Database remains one of the most comprehensive and up-to-date resources available to chess enthusiasts. Whether you are a beginner looking to learn new openings or a seasoned player preparing for summer tournaments, our database offers a treasure trove of insights and strategies. Don't be left outside not knowing what's going on in the world. Replay all the games.
Games collected from all over the world
By exploring the extensive collection of games, you can gain a deeper understanding of different chess openings, study grandmaster matches, and uncover innovative strategies that can elevate your gameplay to new heights. Stay ahead of your competition and improve your skills with Opening Master Chess Database.
At Opening Master, we are committed to continuously expanding and refining our database to provide the most relevant and valuable resources for chess players worldwide. We strive to empower you with the tools you need to excel in your chess journey.
To access the June 2023 release of Opening Master Chess Database, simply log in to your account at our cloud storage (we store our chess databases at sync.com) or visit our website. For new users, we offer a range of subscription options and discounts tailored to your needs, allowing you to unlock the full potential of our extensive database. Right now we are running few campaigns where you can save 20% and donate another 30% to chess children in need.
We hope you enjoy the latest update and find it invaluable in your pursuit of chess excellence. Wishing you success in your summer tournaments and many memorable victories on the chessboard! Together with Gift of Chess Foundation from New York, USA we are collecting funds to donate chess boards across communities with most needs.
Claim "Giftofchess" code at checkout and receive instant 20% discount.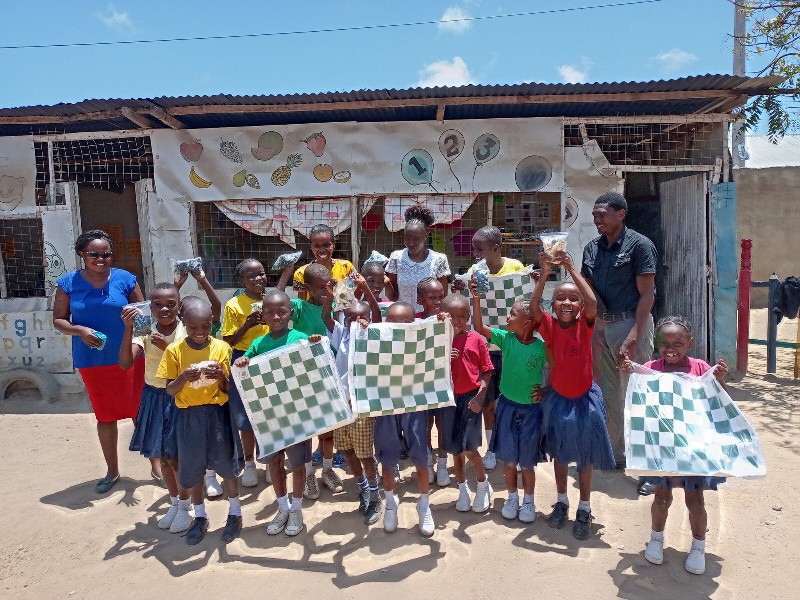 The Benefits of Chess
Chess is more than just a game; it is a powerful educational tool that can shape a child's life. Research has shown that chess enhances critical thinking, problem-solving abilities, concentration, and decision-making skills. Furthermore, it teaches children the value of patience, sportsmanship, and resilience, qualities that are invaluable in all aspects of life. By providing children with access to chess, we empower them to develop these essential life skills and build a solid foundation for their future success.

Supporting the Cause
To further our mission, we have partnered with Opening Master Chess Database, a leading chess resource platform. With every purchase of their remarkable chess database using the special coupon code "mmachess" chess players will receive an immediate 20% discount. The remaining funds from these purchases will be allocated to orphanage houses and homes where children and their families cannot afford a chess set. This way, not only will chess enthusiasts benefit from enhancing their skills, but they will also contribute to providing underprivileged children with the opportunity to experience the joys and advantages of the game.
Together, Let's Make a Difference
Join us on this incredible journey to ensure that every child has access to the world of chess. By supporting our cause, you are not only investing in the future of countless children but also contributing to the development of a more compassionate and understanding society. Let us unite MMA and chess, physical and mental activities, to create an environment where every child can thrive.
Ambassador from Czechia and Slovakia: Lukas Piffko
Judo, BJJ, MMA Fighter - Entering profi ring 27.05.2023 at Colosseum Fight Night 2 in Slovakia and loves chess
Member of Hron Gym Gauny Team, Czechia, practice also Slovakia
20 years of martial arts
WOW BJJ European Champion Silver, Bronze
IMMAF Junior World Championships Male Junior Light Heavyweight Silver
Junior World Male Junior Middleweight Bronze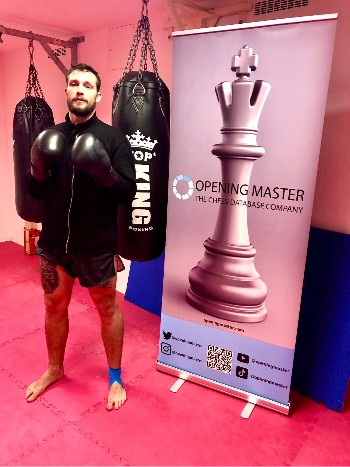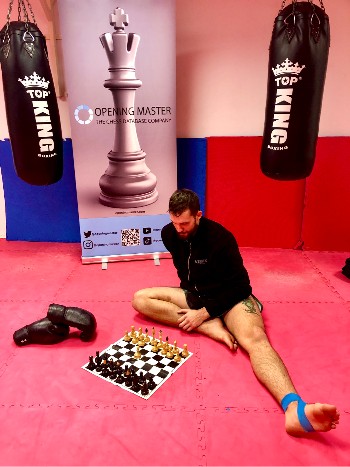 Lukas Piffko: Chess has the power to transform lives, and it is our collective responsibility to make it accessible to all children. Through our charity cause that connects MMA and chess, we aim to break barriers, challenge stereotypes, and raise awareness of the tremendous benefits of this remarkable game. By purchasing the Opening Master Chess Database with the special coupon code "mmachess," you not only enhance your own chess skills but also make a positive impact on the lives of underprivileged children. Together, let's fight hard, play to win, and support this noble cause.
Join us in awakening the warrior within every child and paving the way for a brighter, more inclusive future.
Credit Source Video: Hron Gym Gauny Team https://www.instagram.com/hron_gym_gauny_team/

Join the battle with us as we forge ahead on our mission to empower children through chess. Let us rise together, fighters of injustice and champions of change, and make a resounding impact on the lives of these deserving children.
Best regards,
The Opening Master Team